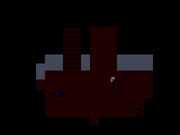 The Roach Oni (sometimes called "Leechum" or "Wheels Oni") is a unique type of enemy, appearing in Version 5 of Ao Oni and Vampire Mika . It first appears on the third floor of the Annex in the room where the player obtains the plank, after which it appears in multiple rooms throughout the Annex; whether there are many or just one is unknown. It appears to be an insectoid-like creature with six legs, long antennae and a tail. An eye is also present the creature's back, which opens slowly at its arrival. This is the smallest Oni.
Although it usually moves around slowly and in random directions while on-screen, if Hiroshi is in proximity of the creature, it will charge at him, instantly warranting a Game Over.
If the player waits by the door when roach oni attacks, it can be narrowly escaped.