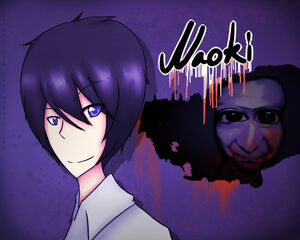 Information
Naoki is a character that apears in Ao Oni Jikkyou v3.0. Hiroshi has a dream that monster enters a room with him and says a few words. It then takes a head mask off, revealing what appears to be a person in a blue monster costume. The person in the suit is rumoured to have been called Naoki.
Appearance

Naoki has been interperated to wear a white suit, since you can only see his head when he takes off the mask, he has black
hair, purple eyes and pale skin. He appears in 3.0, where in Hiroshi's dream, he scares Hiroshi, shows himself, then the other protagonists come out, Takeshi holding what looks like a cake.