Installation Guide
Comments

43
89pages on
this wiki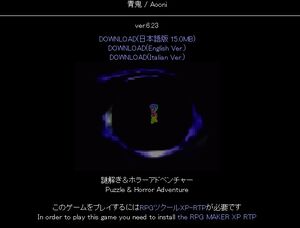 To install Ao Oni, it is recommended that you download it from the source website, rather than some hosting hub. This will ensure that you have the genuine and latest version. It is not possible to download previous versions of the game from the website.
Instructions
Edit
Ao Oni was created with RPG XP game creator. In order to play, you will need to download and install the RTP (Runtime Package). It does not affect your computer and can be uninstalled at any time. The RTP can be downloaded here .
On this webpage, scroll down to "I agree and download RPG MAKER XP RTP." That will prompt the download and installation. Install the software to the default location.
Download the latest version of Ao Oni from the official website . It is in Japanese, but it is very easy to navigate. Click on "DOWNLOAD(English Ver.)."
It will download an executable extraction file. Run the executable and choose a location to extract to. The desktop will work fine, or if you are collecting all of the versions of the game, a specific Ao Oni folder will also work. No installation is necessary.
Run Game.exe.
Only versions of the game made in RPGXP will require you to download and install the RTP (step 1 above). Fan-made games like Hakkyo Oni and Ao Oni S will require the RTP, but games made in other environments like Heta Oni will not. Check the downloads page for more information on which versions require the RTP.

If you are installing and running an older version of the game, you may experience the

Missing Text Glitch

.

You only need to install the RTP once. It will work for all future version of the game. It can also be uninstalled at any time by going to Start > Control Panel > Uninstall Programs/Software , although this will mean you cannot play any Ao Oni games until you reinstall it.

For Korean fangames, set your locale to Korean. For Japanese fangames, set it to Japanese.