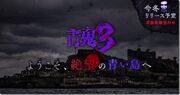 Ao Oni 3 is an app available on iOS and Android devices. It lets you play as Hiroshi, Mika, and Takeshi, for free. Like Ao Oni and Ao Oni 2, it lets you roll and change masks. Ao Oni 3 is a sequel to the Ao Oni 2, Tabibito. For example, while playing as Takeshi, you can find Tabibito lying on the floor, apparently too weak to move.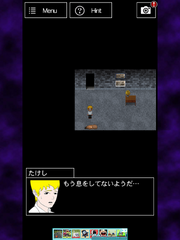 You can play as three characters, as said before, Hiroshi, Mika, and Takeshi. All of their stories start in the same way. They are on a field trip to an island, but the ship they were on got wrecked, and Hiroshi, Mika, and Takeshi find themselves stranded on the island, alone. Soon after, they realize that the island is inhabited by the Ao Oni.
Unfortunately, the current version is in JAPANESE, so the game has yet to be translated for certain stories and objects. To all of those out there who have an English version, please please please edit this for me, if I get anything wrong.
Page made by Selene Vu
Thank you all for your support \(^_^)/
Story Mode and Cheat Codes
Edit
Hiroshi
Takeshi
Mika
Takuro
Zombie Oni
Poopet Oni
Clown Oni
King Oni
HIKAKIN
Speed Running